Filter by Category
Professional Development Classes
Notary: Notary Public Livestream - Renewing Notaries
with Notary Public Seminars, Inc.

May 15, 2021 at 10 am
Renewing Notaries
You are eligible to take our renewal class if your commission has not expired.  Must be at least 18 years of age. A serious conviction may disqualify an applicant.
Register for the official notary exam 15 days in advance. Use this link to view schedule and register: https://www.cpshr.us/notary/exam_registration.php
Date: Sat/Sun May 15 & 16, 2021  10:00-1:15pm
IMPORTANT NOTE: These courses cover the classroom only portion of the training. Proof of completion of these courses, which you are provided, are necessary for sitting for the exam. These courses DO NOT include the examination. Students will need to research and seek out available testing sites for their exams. 
Unless otherwise noted, all of the Community Education and BTC classes are offeday, 10:00am-1:30pmred online via Zoom. Prior to the class starting, the instructor will email all the registrants a link to sign-in to their Zoom class. Zoom is a free, interactive online platform, you do not have to have a Zoom account to attend a class being offered through Zoom. You will need a current email address, a computer or laptop with Internet connection, computer audio or phone.
Notary - Legal Document Assistant
with Notary Public Seminars Inc. -

May 18, 2021 at 6 pm
Become a Legal Document Assistant! Whether you want to boost your income, create a new job opportunity, or take your experience in the legal field to the next level, this class is for you! Become a certified and bonded Legal Document Assistant, and tap into a multi-billion dollar industry. This specialized position allows you to prepare legal documents at competitive rates within this lucrative field. Whether you work for a law firm, help people in need of lower-cost alternatives to an attorney, or work independently for clients who want to represent themselves in court, LDAs experience great opportunities in the following fields: corporate, business, insurance, family law, personal injury, social service and estate planning, among others. Students will receive a Certificate of Completion and the class includes a workbook with descriptions and documents for each topic. LDAs must maintain a $25K bond and register with the county. Prerequisites: A high school diploma with two years of legal experience; a baccalaureate degree with one year of legal experience; or a certificate of completion from a paralegal program approved by the American Bar Association.
Dates: T/W/TH May 18, 19 & 20, 2021 6:00 8:00pm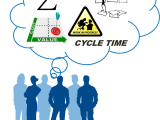 Online Instructor Led - Value Stream Mapping
with DPMG Corporation

Jun 8, 2021
ONLINE INSTRUCTOR LED PRACTICAL PROBLEM SOLVING Problem Solving is the foundation of the Lean office. Continually improving requires continually solving problems - whether these are technical or recurring day-to-day problems. As a Lean tool, A3 reporting addresses the root causes of problems that arise every day at work. When used properly, the PDCA-A3 process dramatically increases the probability of success. Leading companies, such as Toyota, use the PDCA-A3 report to train their employees in a proven and structured problem-solving approach. This 18-hour, 5 session online instructor led course introduces participants to problem-solving frameworks, tools and techniques, and explores their practical application to common office problems.
DATES: MAY 11, 13, 18, 20, 2021 Tue/Thur I 8:00 am-12:00 pm + Fri MAY 21, 2021 8:00am to 10:00am.